Name your dog or horse after a famous war horse or war dog, a famous military hero, a military term, or a military base.
Dogs and Horses have served alongside soldiers in many wars throughout history.
Famous U.S. War Horses:
Cincinnati was Union General Ulysses S. Grant's horse during the civil war.
Traveller was Confederate General Robert E. Lee's horse during the Civil War.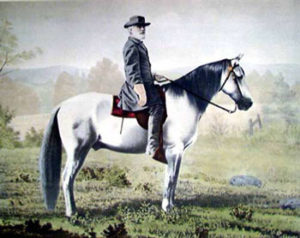 Gen Lee rode Traveller from February 1862 until Lee's death in 1870. Traveller was a Gray American Saddlehorse who stood 16 hands and had great endurance. He is buried at the Lee Chapel Museum in Lexington, Virginia.
https://www.findagrave.com/memorial/3082/traveller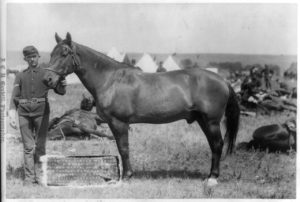 Comanche (above in photo from 1887) was a horse attached to General George Custer's 7th Cavalry when it engaged with the Lakota during the battle for Little Big Horn in 1876. All the troops were killed but Comanche survived. Injured, he was nursed back to health.
Sergeant Reckless was a famous horse who served during the Korean War.
Famous U.S. War Dogs:
Sallie – Civil War
Rags – WW I
Sergeant Stubby – WW I
Bob – WW II
Kurt – WW II – one of The Dobermans
Chips – WW II
Smoky – WW II
Sinbad -Coast Guard during WW II
Beauty – WW II rescue dog
Nemo – Vietnam War – A German Sheperd
Valdo – Afghanistan 2011
Lucca
Lex – Falluja
Name your dog or horse after a famous military hero.
Use the full name ("President George Washington" is a fun, very long name for a dog) or just the last name. Here are some suggestions of names of military heroes:
President George Washington was a Revolutionary War hero.
Winfield Scott, known as "Old Fuss & Feathers," was a high ranking Army officer during the early and mid 1800s.
General George A. Custer. Plus General Custer loved dogs. Here is a photo of Custer with his dog from 1862.
Robert E. Lee (note: this name may be controversial today)
Ulysses S. Grant
John J. Pershing
Dwight D. Eisenhower
General George Patton (or just "Patton")
General Douglas MacArthur (or just "MacArthur.")
Matthew Ridgeway
H. Norman Schwarzkopf
Military Terms also make great names for Dogs and Horses:
Admiral
Bomber
Captain
Chief
Colonel
Commander
General
Gunner
Major
Private (or Private Ryan)
Sergeant or Sarge
Scout
Skipper
Soldier
Tracker
Military weapons and vehicles:
Ammo
Archer
Bayonet
Bazooka
Bullet
Cannon
Colt
Dagger
Grenade
Kimber
Missile
Musket
Nito
Patriot
Pistol
Remington or Remy
Rifle
Rocket
Ruger
Striker
Tank
Torpedo
Victory
Military Bases make good names for Dogs and Horses. Here are some suggestions:
Anniston
Ashland
Bashur (in the Middle East)
Beale
Benning
Beauregard
Cooke
Devens
DeRussy
Drum
Dugway
Elmendorf
Gowen
Greeley
Hawthorne
Hood
Hunter Ligget
Hurlburt
Kirkuk (in the Middle East)
Leavenworth
Lincoln
Mabry
McCoy
Maxey
Navajo
Pearl (as in Pearl Harbor)
Pendleton
Price
Redstone
Riley-Bog Brook
Roosevelt
Rucker
Schofield
Sierra
Stewart
Tripler
Tyndall
Umatilla
Wainwright
Yuma
Or use a name from the NATO phonetic alphabet (i.e. "Alpha – Bravo – Charlie") which is commonly used in the military
The 26 code words in the NATO phonetic alphabet are assigned to the 26 letters of the English alphabet in alphabetical order as follows:
Alpha
Bravo
Charlie
Delta
Echo
Foxtrot
Golf
Hotel
India
Juliet
Kilo
Lima
Mike
November
Oscar
Papa
Quebec
Romeo
Sierra
Tango
Uniform
Victor
Whiskey
X-ray
Yankee
Zulu.