There are lots of dogs who are yellow, notably Yellow Labs and Golden Retrievers, but also Wheaten Terriers, Bearded Collies, Afghan Hounds, and Cavanese (which is a cross between a Cavalier King Charles Spaniel and a Havanese dog.) Note: Chihuahuas are technically cream colored, but many people would classify them as yellow dogs too.
The number one name for a yellow dog is "Old Yeller" after the beloved 1957 Disney Movie. You could shorten this to just "Yeller."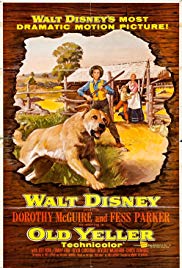 Here are some more great name choices for YELLOW DOGS:
Food & Drink Related: Apricot, Banana, Biscuit, Blondie, Butter, Buttermilk, Biscotti, Butterfinger, Butterscotch, Champagne, Corn dog, Corn chip, Chip, Chips, Crackers, Cheeto, Cheese Puff, Custard, Granola, Eggnog, Hazelnut, Honey, Hot Toddy, Latte, Lemon, Lemonade, Mango, Maize, Mustard, Nacho, Peaches, Pineapple, Taffy, Tortilla, Triscuit, Twinkie, WAFFLES, and Wheaties.
Celebrity-related: Anna Nicole (Smith), Blondie, Dolly (Parton), Doris (Day), (Jean) Harlow, Farrah (Fawcett), Gwen (Stefani), Mae (West), Marilyn (Monroe), Owen (Wilson), Reese (Witherspoon), Ronan (Farrow), and Redford (Robert).
Animal-related: Bumble, Bee, Canary, Lion or Elsa (the famous Lion), Fawn, Xanthia (a yellow moth), and Tweety.
Sun and Geography related: Arizona, Sunny, Sol, Soleil, Sunkist, Sunrise, Dawn, Ray, Sahara, Sandy, Sandcastle, Beach, Fire, and Tuscan.
Flora & Fauna: Buttercup, Daisy, Daffodil, Dandelion, Goldenrod, Hays, Harvest Gold, Jonquil, Marigold, Meadow, Straw, and Willow.
Color-related: Amber, Buffy, Chrome, Citron, Flax, Flossie, Gamboge, Gold, Goldie, Goldilocks, Golden, Khaki, Mikado Yellow, Nugget, Ochre, Platinum, Saffron, and just plain Yellow.
Here are some great name choices for MELLOW DOGS.
For MALE dogs:
Absalom is Hebrew and means "Father of Peace."
Axel is the Scandinavian variation of Absalom.
Bubba -Redneck for laid back
Buddy or Bud
Calum is Gaelic for "Dove" – a bird associated with Peace
Colm – English for Dove
Concord is a Puritan value name meaning Peace
Dalai Lama (for the Spiritual leader)
Ferdinand means "Peaceful Venture" in German
Frederick is Old French and Old German and means Peaceful Ruler
Galen (or the variation Jalen) means calm
Garfield
Garvey means "rough peace" in Old Irish
Geoffrey means God's Peace
Ghandi (after the peaceful Indian leader)
Godfrey
Jonah means Dove
Makepeace means the peace maker
Manfred means peaceful strength in German
Mel (as in Mellow)
Noah means rest in Hebrew
Noble
Oliver is derived from Olive Tree, which is symbolic of peace
Pax is Latin for Peace
Paz is a Spanish Derivation of Pax.
Paxton is an American derivation
Placido means untroubled in Italian
Renfrew is Welsh for Calm River
Ringo means Apple and Peace be with You in English
Rinji is Japanese for Cool and Calm
Rock or Rocky
Slug or SlugBug
Schlub
Stretch
For Female Dogs:
Avani is African for Peace
Amity is a Puritan virtue name for Friendship
Chessa is a name with Slavic origins and means "at peace"
Coy means quiet
Darienne means silent gift
Dimah means silent rain falling without sound
Dreama
Floppy
Galena means calm in German
Harmony
Irene means peace in Greek
Kimya means silent
Mama
Placida means tranquil in English
Serenity
Shy or Shyer or Shyanna (for a shy dog)
Tayci means a silent girl
Unisex Names for Mellow Dogs:
Bashful
Buddha
Chill or Chill Pill
Chubs
Droopy
Easy
Jam
Jazz
Loafer
Marshmallow (you could spell it Marshmellow)
Mellow
Merlot
Mosey
Lazy Daze
Slacker
Sleepy
Sloth
Slowpoke or Pokey
Turtle
Veggie (as in a dog who likes to veg out)
Waddles
Weekend (The)
Weezer
Zen
And the #1 name for a dog who is both Mellow AND Yellow is:
MELLOW YELLOW!
You can also spell it "Mello Yello" after the beverage.