Cows fall into two categories: Beef or Dairy.
Most children think of dairy cows when they picture a "regular" cow.
There are seven varieties of dairy cows, which are bred for their ability to produce milk.
These are: Holstein, Jersey, Brown Swiss, Guernsey, Ayrshire, Milking Shorthorn, and the Red and White Holstein.
The most common breed is the Holstein. Holsteins are large black and white cow that produce the most milk of all the dairy breeds.
Here are the top names for regular dairy cows:
Annabelle
Belle
Beulah
Bessie
Blossom
Bossie
Brownie
Buttercup
Clara
Clarabelle
Clarissa
Daisy
Dorothy
Elsie (The Borden Dairy cow)
Eloise
Flossie
Flora
Gertie
Glory Bee
Hannah
Hazel
Henrietta
Ingrid
Minnie
Molly
Nettie
Petunia
Rosie
Sigrid
Sophia
Sunny
Tess
Willa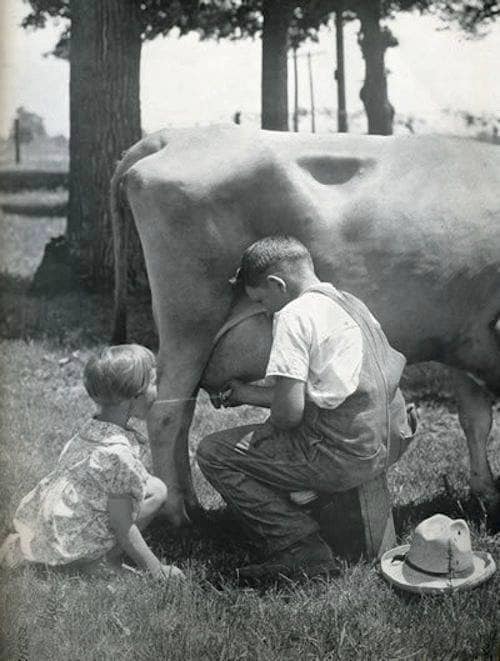 Why is the name "Bessie" so often used for cows?
In the olden days, the typical name for the family farm cow was "Bossie."
The name "Bossie" is from the Latin genus name for domestic cow, which is "Bos." The species name is "Bovidae."
Farmers would call the cow "Bos" or "Bossie" and say "Soooo Boss" to call the cow in for milking and to sooth it before milking so they would relax their udder.
If a farmer had a group of cows, the lead cow was called "Bossie" because she was the "Boss."
The name "Bessie" is a derivation of the original name "Bossie."
Note: All milking cows are female!